This morning I was lucky enough to be invited to go and try out the new 'My Westfield' shopping app, which is currently available for the iPhone. I headed to Westfield Stratford to learn more from the team at Westfield and also the developers who built the app. When I downloaded it this morning, I had a quick play on it before meeting with the team and was already impressed! Once I learnt about more features, it was even more obvious this was clearly something special.
Firstly what's great about the app is that Westfield is a HUGE shopping centre and I don't know if your like me, but I always get lost. So the best thing for me was the map and locater features. You are able to tap in what shop your standing in front of and then where you want to go next and it will give you a little map of your journey a bit like Google Maps. You can then press play as you hit each step e.g Head to the escalator, walk straight ahead.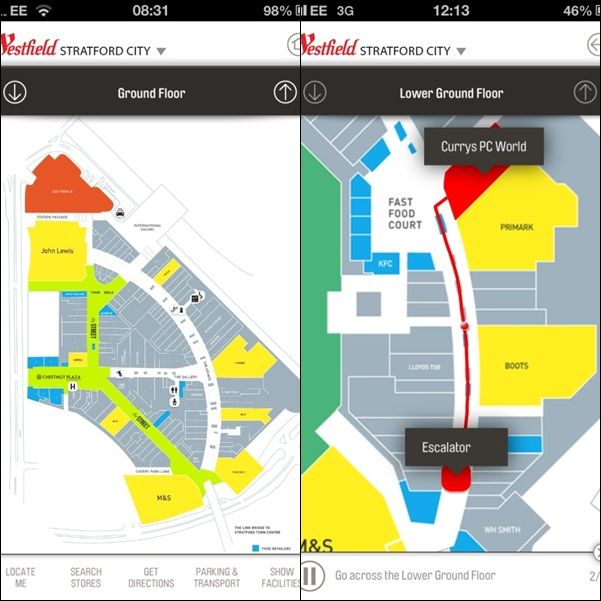 The app is completely personalised so from the moment you download it you can choose what shops you prefer by swiping them up if you like them (thumbs up) or swipe down if you don't (thumbs down), it then cleverly works out what kind of person you are, your shopping habits and the things you like. Mine was really accurate, it can even tell if you wear glasses (don't ask me how!?). It will then display a sort of collage of all the shops tailored to you. Giving you news on sales, featured promotions or anything else that's happening in the centre you might be interested in.
A few of my favourites features are:
1. Find Your Car – Can't remember where you parked? Type in your registration plate and the camera will find your car in the car park! Too Big brother for you? Then simply use the app to record or type a voice note of your car's location.
2. Book Other Activities – Fancy the cinema after shopping? Check out the films, film times and even book your tickets all through the app.
3.Trends –  If you're looking for fashion inspiration, Westfield have put together the latest trends for you to browse through. These will also be linked to their new blog coming soon!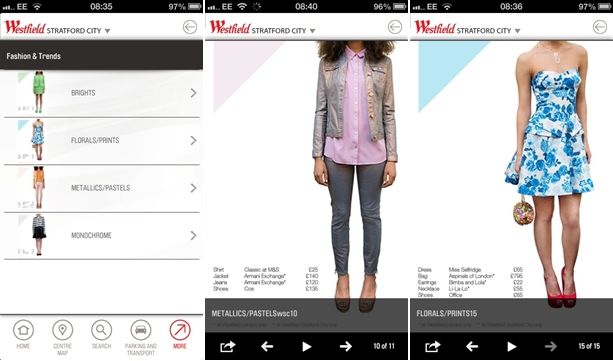 4. Product Search – Perfect if you're looking for a certain product and not sure where to get it. I was looking for my YSL cleanser and the app easily told me to head to Boots, which was great as I wasn't sure whether that branch had YSL make-up or not.
I have got so excited about this app (geek) but it's really great, you can download it free from iTunes now and it will be coming to Android soon so stay tuned.
Also they have a competition currently to win £500 vouchers at Westfield just by downloading, so get involved!