Over the past year or so I have become converted to using a sponge to apply my make-up. Not only do I use a sponge to apply my foundation but also for blush, contour and highlight. Real Techniques by Pixiwoos miracle complexion sponge or 'the orange one' as I call it, is a firm favourite and I am excited to share that they are now launching a whole new range of sponges. The sponges cover everything you could need, from body blending to face cleansing. Whatever you need a beauty sponge for you are covered in this collection.
I've got an exclusive first peek at the new launch to share with you, so let's delve right in.
Real Techniques Dual-Ended Expert Sponge £5.99
What's It For? The dual-ended sponge is designed to give you a medium to heavy coverage from your foundation. As well as having a double end to apply contour, highlight or blush.
How To Use It? Unlike most sponges, this sponge should be used dry to really achieve that fuller coverage. The orange side is for foundation application and the pink end is for your highlight, contour and blush.
Real Techniques Mini Miracle Complexion Sponge (Pack of 4) £7.99
What's It For? An on-the-go sponge designed for touch-ups. They are small in size to fix up concealer under the eyes, cover blemishes or any small area you want to touch up. Easy to fit into any make-up bag or handbag.
How To Use It? Use damp or dry, damp gives a dewy glow and dry is great for more full coverage (a good one for covering up spots). Works well with liquid make-up.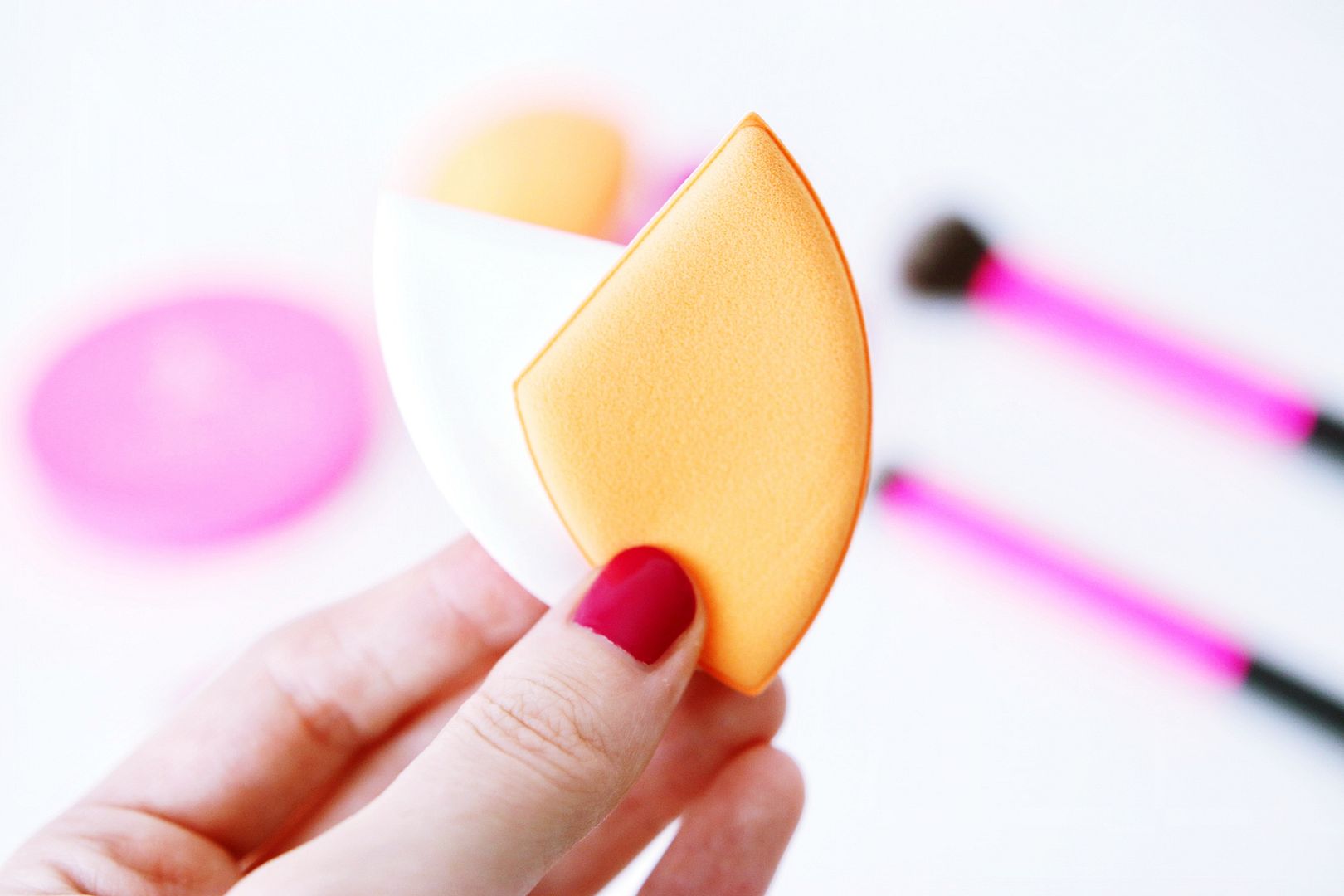 Real Techniques Miracle Blotting Cushions  (Pack of 4) £8.99
What's It For? Blotting cushions designed to blot oily areas, dab on foundation or smooth creases.
How To Use It? Use the blotting cushion dry to help create a smooth and mattified finish. They can soak up excess oily areas or help to mattify your foundation by patting lightly to the face.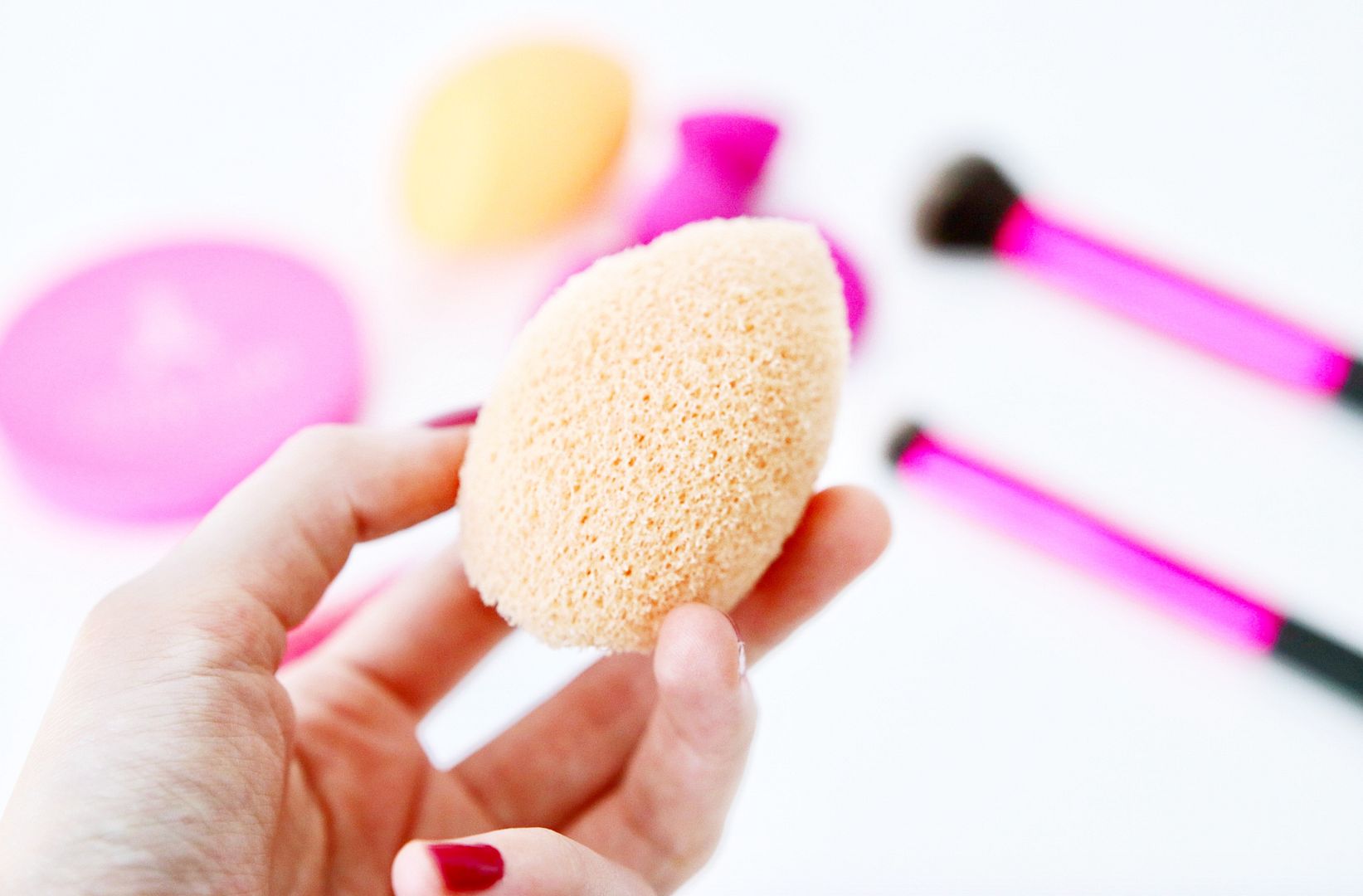 Real Techniques Miracle Cleansing Sponge £5.99
What's It For? This one reminds me of a Konjac sponge and has the same texture to it. The cleansing sponge does what it says on the tin, cleanses and exfoliates, getting rid of makeup, oil and dirt.
How To Use It? Use this sponge wet and with your favourite cleanser. It's shaped so that it can reach all the different contours of your face and gives a real thorough cleanse.
Real Techniques Miracle Finish Sponge £5.99
What's It For?  This one is like a hybrid between the contour wedges and the original complexion sponge. It's smaller in size than the original as well as being pink and it is designed for the application of blush.
How To Use It? Blush can be applied either using the sponge damp or dry. It works with powder or cream/liquid blush and is a really good way to achieve a natural and build able blush finish.
Real Techniques Miracle Sponges & Stands £14.99
What's It For? The set includes two miracle sponges and two stands which are great for storing your sponges when you aren't using them and also after cleaning to let them dry out.
How To Use It? The set includes a mini eraser sponge designed to remove any make-up mishaps and a sculpting sponge for highlight and contour, both can be used damp or dry.
Real Techniques Miracle Face & Body Complexion Sponge £7.99
What's It For? A larger sized version of the original complexion sponge for easy application of self tan, bronzers and any body make-up.
How To Use It? With its larger size it helps to apply to every contour of the body, use the flat edge for contouring and highlighting and the tip for precision application. Use dry for fuller coverage, think self-tan and damp for sheer dewy glow, maybe a body highlight.
Real Techniques Miracle Contour Wedges ( Pack of 4) £9.99
What's It For? Designed for an easy way to contour. Use the sponge to blend and buff quickly and easily your contour powder or cream. There are four contour wedges in each pack.
How To Use It? Using the pointed tip, apply your contour. Use the sponge damp with cream or dry for powder. Then use the domed side to blend it in and the flat side to buffer it for a more polished look.
WIN YOUR OWN SET OF REAL TECHNIQUES NEW MAKE-UP SPONGES
https://i1056.photobucket.com/albums/t374/phodiaries/phodiaries001/Beauty/IMG_1877_zpsghc0gfhf.jpg
Real Techniques make-up sponge collection launches Monday 6th March in Superdrug, but I have two sets of all of the above sponges to give away to two lucky readers!
All you have to do is enter via the Rafflecopter widget below, enter as many ways as you would like, of course the more entries the more chance of winning! Each winner will receive a full set of Real Techniques new sponges worth over £67. The giveaway is open until the 14th of March, two winners will be chosen at random via the widget after this date. Good luck!
Watch me testing out some of Real Techniques other sponges in my YouTuber products tested video.