Molton Brown have launched a four-piece SPORT collection just for us guys. It's a take on the iconic Molton Brown re-charge Black Pepper fragrance and is a range of fresh and citrus-spicy products tailored to use on and off the pitch. To be honest I never really use anything too fancy in the shower, so I was looking forward to trying these out.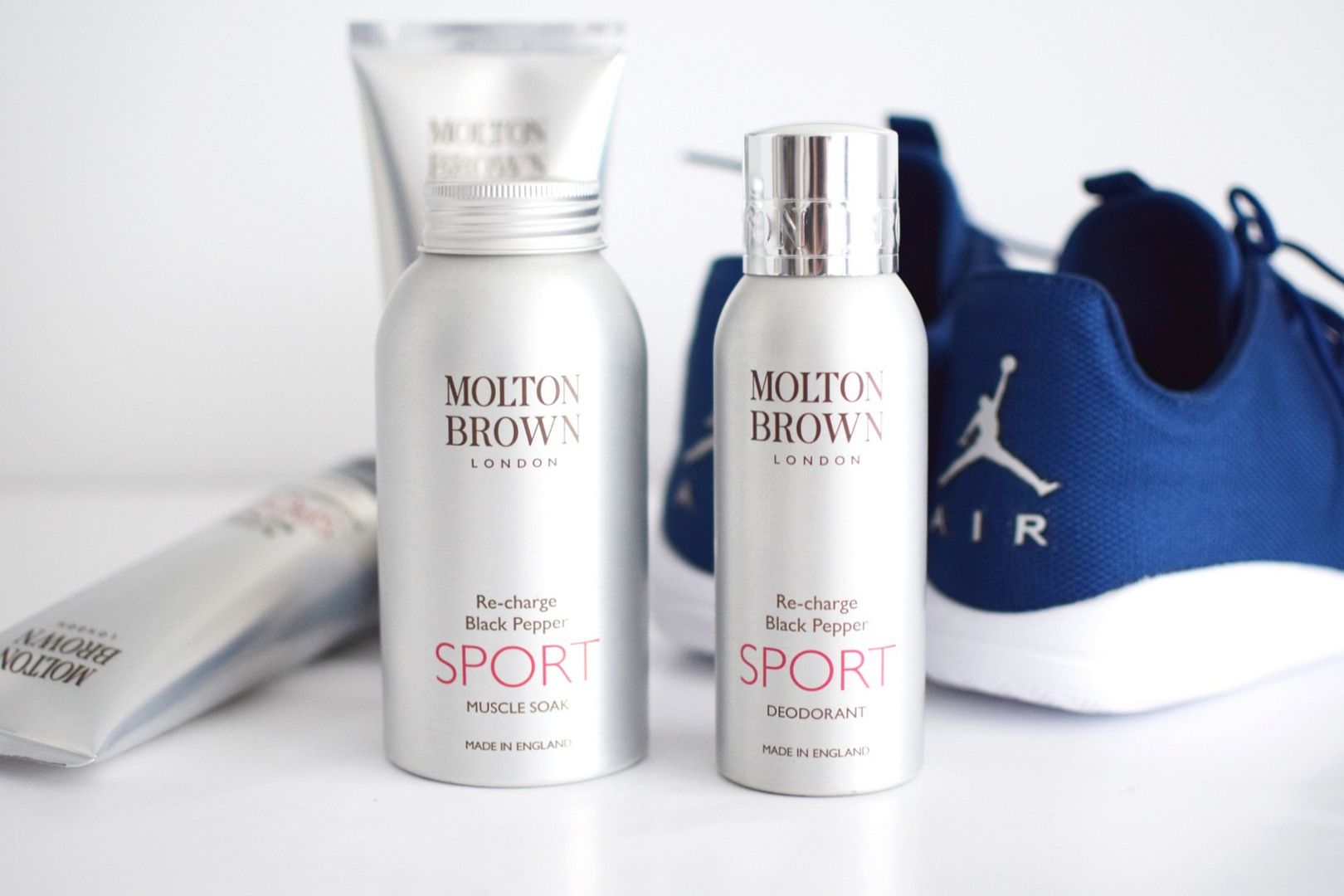 Re-Charge Black Pepper SPORT 4-in-1 Body Wash £16
The 4 in 1 is the perfect post workout or five a side body wash, it's a handy size so it fits straight into your wash bag. It's designed for body, face, hair and shave. The black pepper gives it an instant masculine smell that includes cardamom, jasmine, cedarwood and the standout smell is the spicy Sichuan pepper.
As the smell is very manly you will not have to use a lot of product especially when shaving. On a damp face rub the wash into the skin, it lathers well and then shave with a fresh razor for a super smooth finish. The guar gum really does leave your skin refreshed and smooth. Or as a shampoo apply to wet hair and massage as normal and wash out for shiny and cleansed hair. It works surprisingly well as a shampoo for a 4 in 1 product.
I prefer it as a moisturising body wash but if you want a high-quality multi-purpose product it works great as a shaving gel and shampoo.
Re-Charge Black Pepper SPORT Deodorant £19
After your shower and shave you will naturally want a deodorant to spray to keep you smelling fresh all day. The sport deodorant is definitely going to keep you smelling right, the spray has a fast drying formula that does not leave marks which is great if you are going back to work with your shirt on.
In the deodorant you actually get more of a citrus note unlike the 4 in 1 body wash, you will get more lemon and grapefruit which makes the smell more subtle throughout the day. I have found that the black pepper sport deodorant goes really well with Escentric Molecules Escentric 02 aftershave that I have been wearing recently.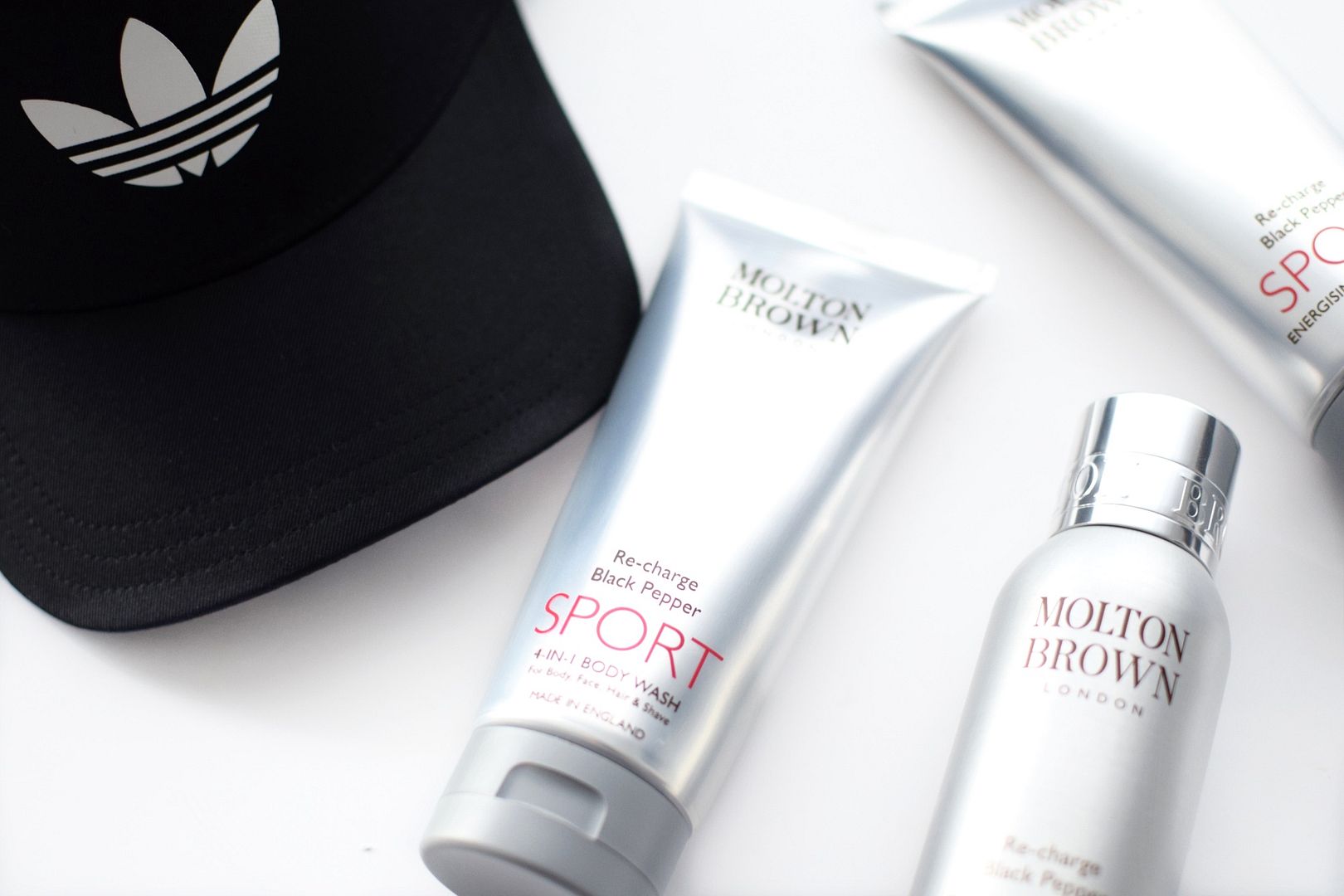 Re-Charge Black Pepper SPORT Energising Body Scrub £24
With pepper as the most powerful smell, this re-charge body scrub does wake you up in the mornings and ensures you smell good. The body scrub is the perfect partner to the body wash, if you suffer from dry or drying skin this exfoliating scrub is going to be your go-to product.
The energising body scrub removes dry skin and removes the dirt and sweat. You can combine the body scrub to exfoliate and then the 4 in 1 body wash to shave and condition your face post work out.
Re-charge Black Pepper SPORT Muscle Soak £18
If you are more of a bath person the re-charge bath salts are definitely for you, if you have had a hard work out the mix of grapefruit and spicy blend of pepper and cardamon will awaken your sense. With just two cap fulls of the bath salts you mixed with hot bath water relax you and re-charges your muscles post match.
The Molton Brown Re-Charge Black Pepper SPORT is available now from the Molton Brown website at www.moltonbrown.co.uk.
Shop The Post