After Christmas I always feel that New Year's Eve seems to come around so quickly and before I can make a decision about what we are doing, it's already here. I used to love a good house party but now I seemed to have joined the dinner club, there is nothing I enjoy more than a good meal. Last year Danny and I went to MASH for dinner and what I liked about it was that they still had the normal menu and we had our own table and didn't feel like it was too busy or cramped around us. However if you go for dinner do you go early or late? I always like a bit later so you can ring in the bells with a few drinks. This year however I am not sure what we will be doing, it seems to early to even think about it before Christmas. Part of me thinks staying in is a great option but then the other half of me wants to dress up and drink champagne, I guess I could do that in the house too!? What I think I would really love to do is jet off to the Bahamas or something and enjoy some Winter sun and a margarita!
Anyway the reason I am rambling on about NYE is because designer clothing site Avenue 32 have asked me to put together my outfit for New Years Eve. They have such a fabulous selection of designer clothing that it really is so hard to choose. So as I have no idea what I will be doing on NYE, I've put together two outfits, one for staying in and one for going out.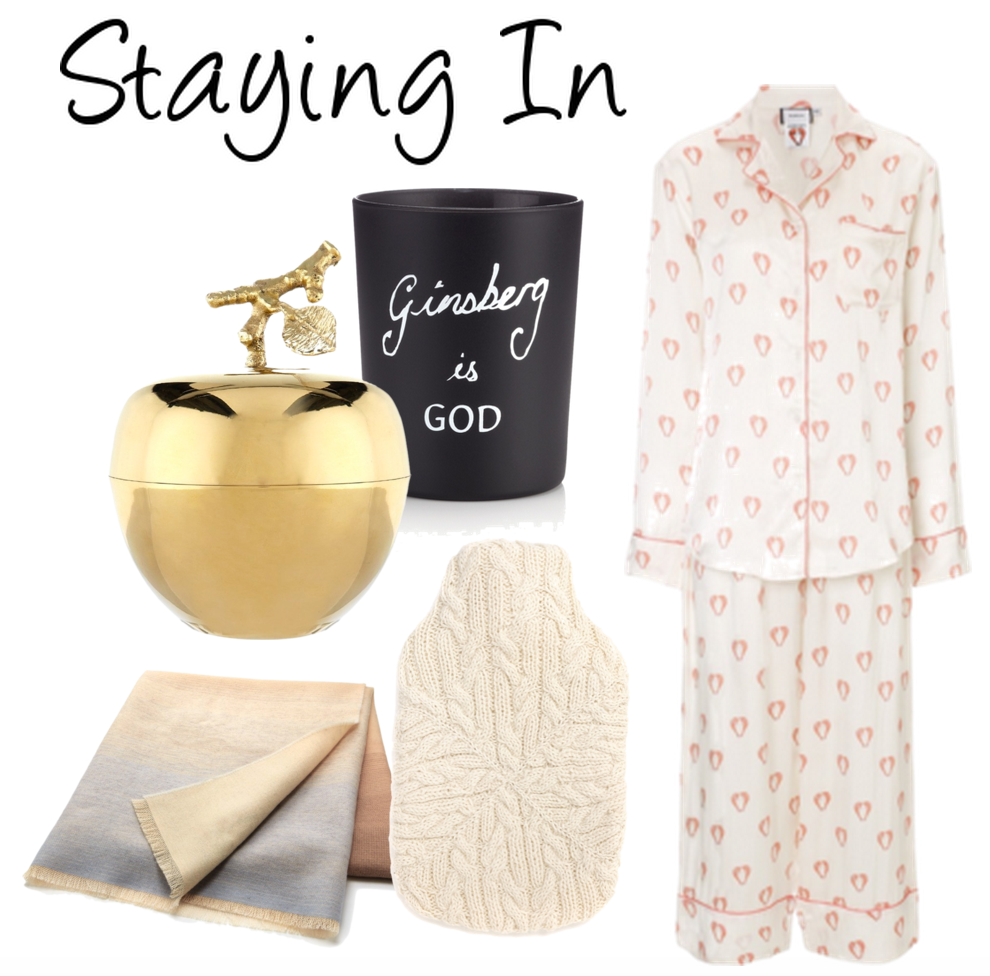 L to R – D.L. & Co La Pomme Grande D'or Candle | Bella Freud Black Ginsberg Candle | Full Moon Luxury Baby Blanket | The North Circular Natural Knitted Hot Water Bottle | Shrimps x Poplin Cream Silk Shrimps Print Pyjamas all Avenue 32.
If I was to stay in, I could dress up BUT I would much rather be in my cozy pyjamas watching the fireworks on TV! These PJ's from Shrimps are so lovely, team them with some snug socks and I'm all set for a night in. When I am having a night in I love candles and you can't beat a blanket or hot water bottle on a winter's night.
L to R – Shrimps Pink Faux Fur Dulcie Coat | Rose Gold Horse Shoe Ring Aamaya By Priyanka | L'Agence Black Crepe Draped Dress | Lulu Guinness Black Perspex Lips Clutch | Aperlai Black Beaded Pom Pom Sandals all Avenue 32
Whether it's dinner or a party, I pretty much will always go for a party dress, I either go for something sparkly and stand out, or keep it classic in black and add jewellery or accessories. This time I've chosen a L'Agence black crepe draped dress, I like the long sleeve and split detail at the front. It is absolutely freezing out, so a fur coat is a must for me, I love the fun designs and playful colours of this Shrimps pink coat which compliments the dress well. Accessories are key for a plain black dress so I have paired it with a Lulu Guinness perspex lips clutch, I can't believe I don't actually own one of these bags, they are becoming pretty iconic and also these Aperlai beaded pom-pom sandals. I've avoided a necklace and went for a gold horse shoe ring to help bring some luck into the New Year!
What will you be doing this New Year's Eve?