I have never attended London Men's Collections before but on Sunday, my friend John at The Everyday Man invited me along to the first day to experience my first LCM! The men's collections runs from Sunday 15th until Tuesday 17th and sees your fair share of men's designers showcasing their SS15 collections. I feel like I've not even got over SS14 or AW14 yet and already we are into next summer, which just reiterates the fast paced business of the fashion world.
Designers include Nicholas Kirkwood, Christopher Raeburn, Moschino, Paul Smith and Orelebar Brown to name a few, with events mainly happening at the BFC Show Space at Victoria House and then other events dotted around London with big brands such as DKNY hosting parties in the evening. Alongside the designers come of course the celebrities with Lindsay Lohan turning up at Moschino, Jesse Metcalfe at Superdry and David Gandy popping up at most, who I managed to end up standing right next to at the Victoria House bar.
The big question came for me was what do I wear to LCM!? For London Fashion Weeek you get on your best attire and definitely pack a pair of flats for rushing about. LCM seems to have a much more calmer pace, it's laidback and I liked it. So I decided to opt for a minimalistic look for the first day. I wore a pair of black skinny jeans teamed with a white tee and my new trench coat. I couldn't wait to wear this coat and this was the perfect day. It is from Stradivarius, Zara's sister brand which is opening at Westfield Stratford later this summer. I couldn't wait for that and ordered online and was so amazed by the quality and especially for only £29.99!
Jeans- ASOS, Trench coat – Stradivarius, Shoes – Primark
T-Shirt – Topshop, Bag – Marc Jacobs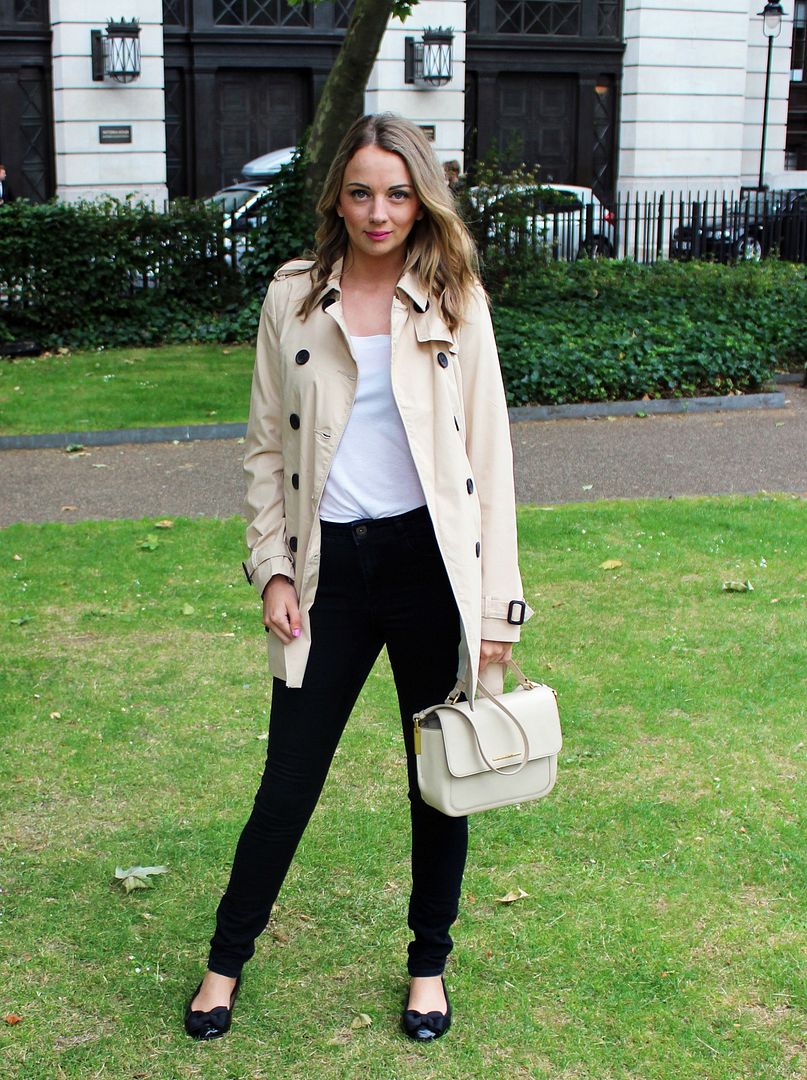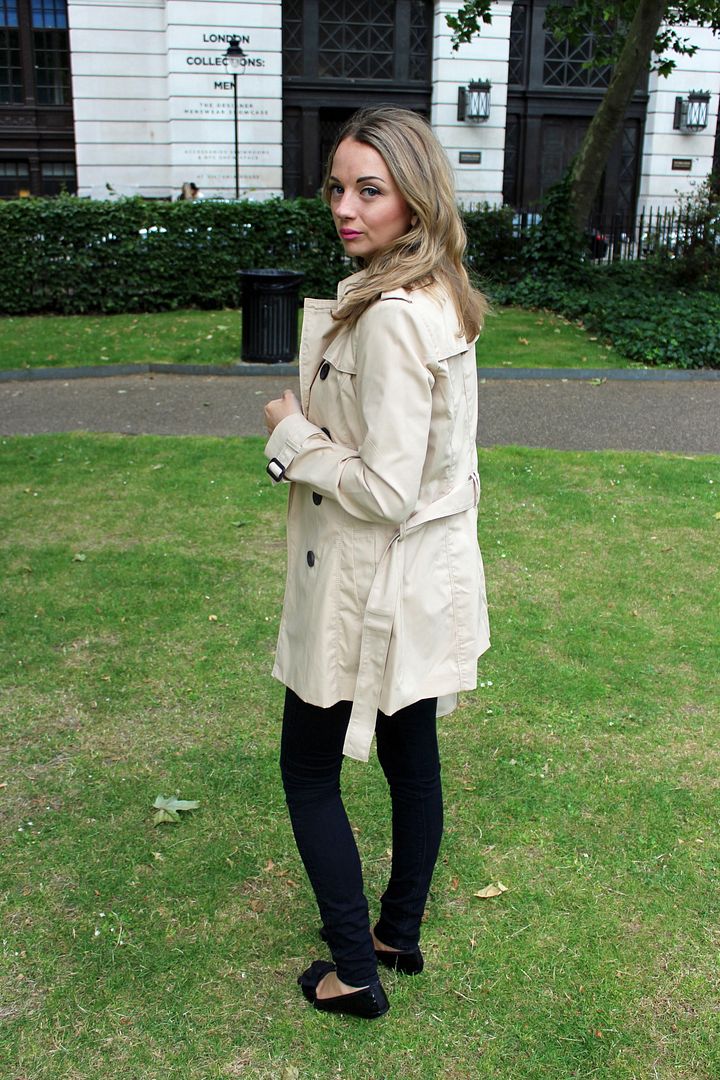 After an impromptu photo shoot it was time to venture in to watch the show. We had tickets for the Agi & Sam show, so whilst we waited we enjoyed some free cocktails at the bar, I showed my true fashion blogger colours by spying Susie Bubble, meanwhile John noticed David Gandy to which I quickly got very excited about! In the Victoria House space there are a few brands on show including London Sock Co, which I featured in my Father's Day guide and also a Fudge hair salon to fix up your hair.
Finally it was time for the show and we took our seats round the catwalk. One thing I noticed was people seemed to sit anywhere, there was no 'You are not on the FROW' type action going on, which was interesting to note for next time. Agi & Sam's collection was a mixture of long-haired models walking with loose clothing.With a palette of blues, whites, black and mustard. It had a very laid back, seventies vibe but the clothes had a much more tailored feel, with box shirts and long culottes.
I had a great time at LCM, catching up with John and seeing the difference between London Fashion Week. I'm looking to start doing men's style on the blog so maybe I'll be back for next season!