I had heard great things about this Oriental fusion restaurant in Soho, what with its interactive e-table ordering system and great food reviews, I decide I had to give Inamo a try.
Last night we ventured to buzzing Soho to fulfil our taste buds with food inspired by 'Japan, China, Thailand, Korea and beyond' as the website suggests. As you walk into Inamo it is very dim lighted and you can't help but notice the interactive table tops.
We were taken to our seats by the girl at reception, who then later explained how the e-table works. What's an e-table? Well each table has a unique colour system which is projected onto the table, you can happily pick the design and pattern depending what suits your mood. I chose the random mode, so it alternated between patterns. You can then order all your food and drink through the computer within your table. Each diner has a keypad to control and can browse through the menu!
The food will appear to the right of your plate and also on the plate via images! You can then select what you want to eat and add it to your order. You are in full control of what you order and when you order. The system even has a few other bits and bobs to keep you amused, including inside the chefs kitchen – a webcam view, memory games oh and even lets you call a taxi if you need one.
We both started with the Chicken Satay, which were chicken skewers served with a peanut satay sauce, these were awesome. The only downside was you only get two, so I just had to order some more. What is great is you can keep track of your bill as you go along, as its very tempting to just keep adding more food.
I then had the Hot Stone Rib Eye which was pieces of rib-eye beef with aromatic thyme accompanied by 3 sauces (zingy nam jim, teriyaki & korean BBQ sauce). The beef I was worried would be too rare, but handy for me it came with a hot black stone, so you can cook it to exactly how you like it.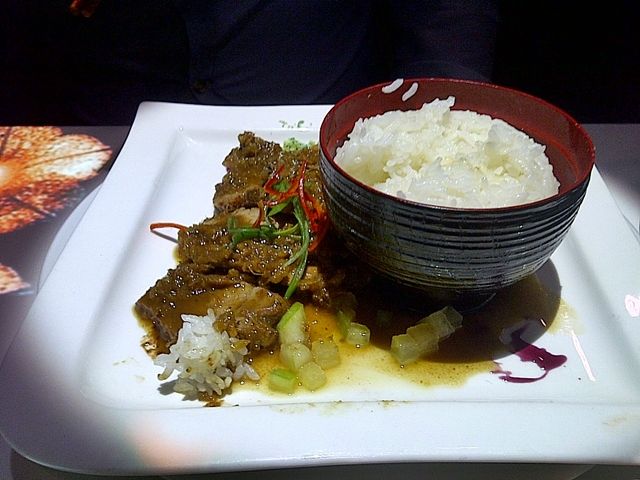 Danny had the Berkshire Pork Neck which was tender pork neck with confit of apple, spicy chocolate sauce, red wine reduction & crushed wasabi peas. He also ordered some rice to go with it.
The cocktails were great and I had two passionfruit martinis, such a great flavour with the food!
For dessert we ordered ice-cream and sorbet. You get 3 scoops of each, the ice -cream flavours were quite bizarre, I loved the lemongrass flavour but Basil tasted like pesto and I kept imaging it should be on a pizza! The sorbets however were lemon, apple and raspberry. Perfect!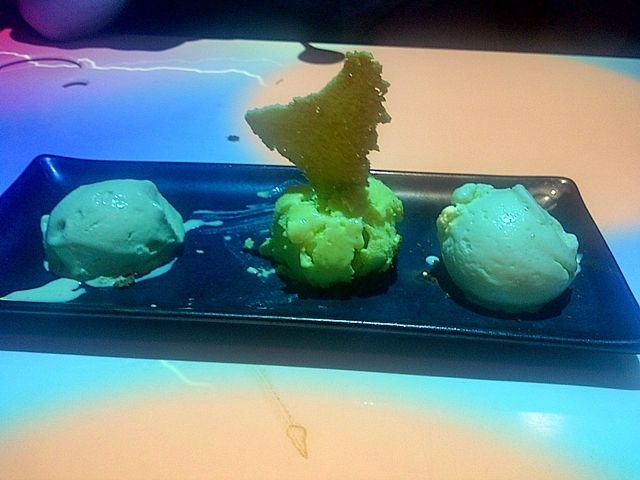 The only complaint I had would be that they mixed up our dessert order, it was finally sorted out but not what you would expect from a self-ordering e-table!
Overall the food was great, the atmosphere was really nice and the e-table is a great thing to be known for.
Find Inamo in Soho at Wardour Street