For London Fashion Week I wanted to get my hair blow-dried, as if it isn't enough worrying about what clothes to wear, I didn't want to have to worry about my hair. This is when HAIRCVT came to my rescue! HAIRCVT is a new online site that helps you to find a salon and stylist depending on what you are looking for and the needs of the hair. You don't need to rely on recommendations from friends anymore, who normally don't have the same type as yourself. HAIRCVT puts all that aside and lets you search via colour, type of hair so thick, thin, curly, wavy or straight. Also by length, gender and the service you are after.
I was after a really bouncy blow dry, so I searched for blow-dries and took a look through the pictures. Each stylist has uploaded pictures of their clients they have done so you can get a good idea of the style and also tells you a little bit about themselves with a picture too. I came across a style by Richard at John Frieda which I really loved, the girl had blonde hair and I really liked the way it had been dried with the ends being lovely and bouncy and wavy, this is exactly what I wanted. HAIRCVT gives you all the details of the salon so you just ring up and book as normal. Being an online site, I do wish it had an online booking system too, but hopefully they will add that in future.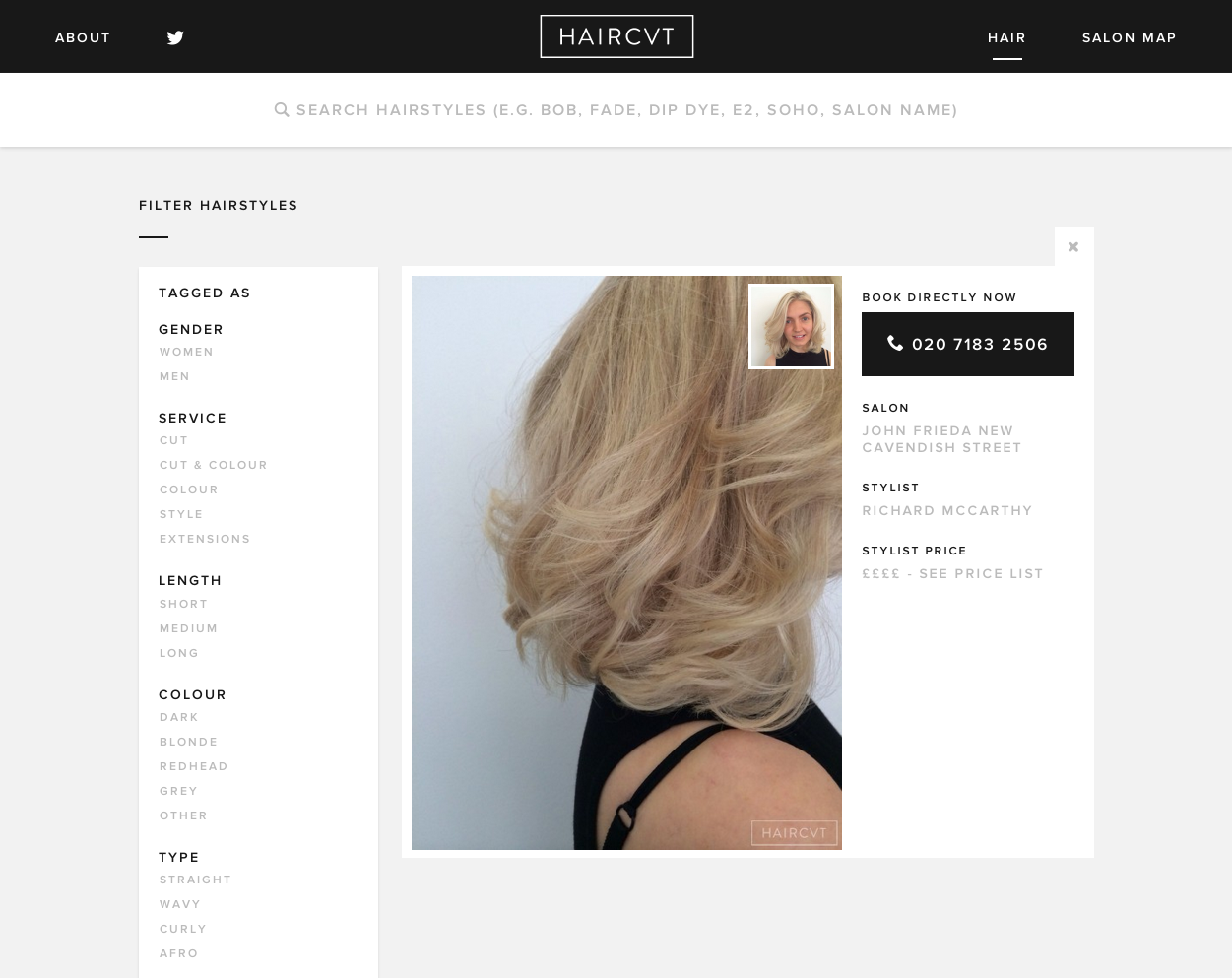 My appointment was booked in for the day before LFW kicked off so I would be all set. John Frieda is based on New Cavendish Street, which is a nice Central London location. The majority of the salons are central based with a few in West London and also in East. Richard was lovely and seemed to know exactly what I was after and we got to work straight away on my big thick mop of hair. I watched intently as I am always amazed how they get this look. I was really happy with the results and it lasted me a good few days which is always the sign of a fantastic blow-dry!
If you are new to London or just fancy a change I'd definitely recommend HAIRCVT as a great way to find a salon and stylist.